Its called Eyefinity: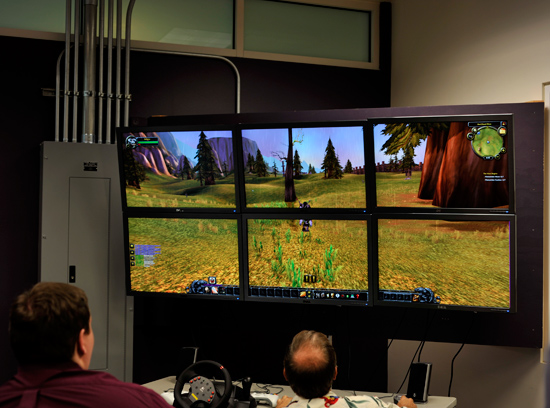 That's six Dell 30" displays, each with an individual resolution of 2560 x 1600. The game is World of Warcraft and the man crouched in front of the setup is Carrell Killebrew, his name may sound familiar.
Driving all of this is AMD's next-generation GPU, which will be announced later this month. I didn't leave out any letters, there's a single GPU driving all of these panels. The actual resolution being rendered at is 7680 x 3200; WoW got over 80 fps with the details maxed. This is the successor to the RV770. We can't talk specs but at today's AMD press conference two details are public: 2.15 billion transistors and over 2.5 TFLOPs of performance. As expected, but nice to know regardless.
The technology being demonstrated here is called Eyefinity and it actually all started in notebooks.
DisplayPort is gaining popularity. It's a very simple interface and you can expect to see mini-DisplayPort on notebooks and desktops alike in the very near future. Apple was the first to embrace it but others will follow.
The OEMs asked AMD for six possible outputs for DisplayPort from their notebook GPUs: up to two internally for notebook panels, up to two externally for conncetors on the side of the notebook and up to two for use via a docking station. In order to fulfill these needs AMD had to build in 6 lanes of DisplayPort outputs into its GPUs, driven by a single display engine. A single display engine could drive any two outputs, similar to how graphics cards work today.
Eventually someone looked at all of the outputs and realized that without too much effort you could drive six displays off of a single card - you just needed more display engines on the chip. AMD's DX11 GPU family does just that.
The full article is here
http://www.anandtech.com/video/showdoc.aspx?i=3635
and it looks pretty sweet.
_________________